Find out the best cement in India in 2022 to make informed choices. Keep reading the context for a detailed understanding.
The article talks about the 10 Best Cement in India in 2022 and offers readers a resourceful insight into the best cement brands that makes its way to the top.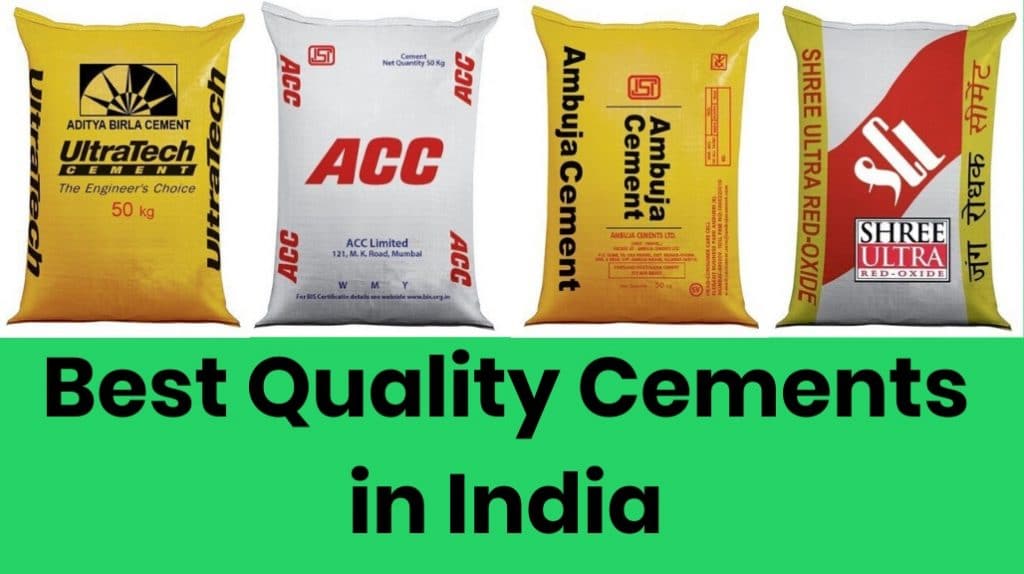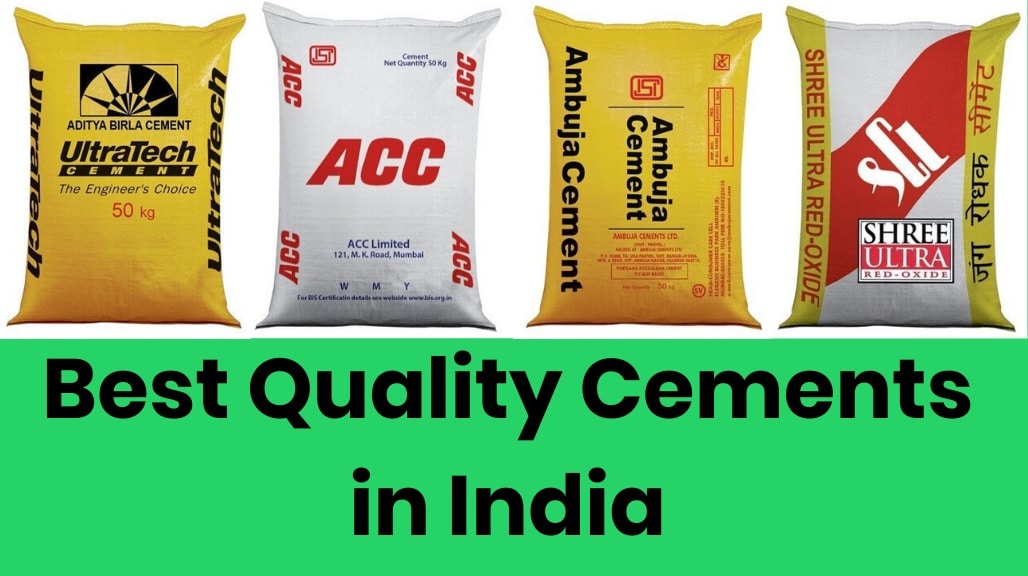 Cement, one of the major components of building materials have undoubtedly emerged as a star construction material in India and abroad. Beneficial for the production of a number of structures, it paves its way for being the most important ingredient weaving magic across building foundations and structures around the globe.
Modern day cement has come a long way right from its origins. The popularity of the component can be cited with the help of statistics that claims the industry to be the second most important in India, after iron and steel.
The billion dollar industry has been producing some of the best quality cements in India, one being better than the other. The industry is booming and is also well recognized for producing a large variety of cements, well adhered by the Bureau of Indian Standards (BIS).
Cement is classified depending on the grades which help in determining the compression strength gained by the concrete. Every year, a new type of cement supersedes the other in breaking the barrier and fulfilling construction commitments.
An Overview of Different Types of Cement:
There are a number of varieties in cement that always make space for the most demanding choice in the market. What defines them better is a set of characteristics and specifications that distinguishes one from the other. Let us explore a detailed analysis of the different types of cement and learn what makes them unique from one another.
1. Ordinary Portland Cement (OPC)
It is the most widely used cement across the world, largely useful for the production of mortar, concrete, non-specialty grouts and stucco. Commonly referred to as grey cement, the type is mostly beneficial in the field of concrete construction.
Advantageous for a large number of general civil construction works, the 33 Grade Ordinary Portland Cement is beneficial for use under normal/ mild environmental conditions. Produced with magnesium, silica, iron, sulfur trioxide, alumina, 33 Grade is backed with a number of essential components that makes your structures stand out.
Comprising low compressive strength, the cement is usually not used where a high grade of concrete is required.
This particular grade of cement is highly beneficial for the purpose of mass concreting along with plain cement concreting. In addition to this, the grade is beneficial for single storied individual houses and fulfilling varied needs associated with plastering.
2. Portland Pozzolana Cement (PPC)
PPC has undoubtedly become a crucial choice because of its use of pozzolanic materials which imparts improved properties to the cement. It comprises a greater degree of fineness and is built to be highly resistant to corrosion.
Although it is built having a low initial setting time, however it gains more amount of strength with time. Facilitating better workability, the type is recommended for usage across general construction while being strongly recommended for plaster, tiling and masonry.
Its usage not only leads to a reduced cost in construction but also is largely responsible for bringing a change in the quality of the structure.
3. Portland Slag cement
Providing improved protection against attacks from sulphate and chloride, PSC is highly preferred cement. The high popularity is primarily due to its usage in constructions emancipating a susceptible attack to sulphate and chloride.
4. White Cement
Created from raw materials that comprise manganese and iron oxide, the White Portland Cement is primarily beneficial for non-structural works. It offers a large usability across architectural purposes like wall paintings, mosaic walls and others.
A type of Ordinary Portland Cement, its ingredients consist of iron oxide, fuel oil and clinker. With the content of iron oxide being less than 0.4%, the white colour of the cement is well maintained.
5. Hydrophobic Portland cement
As the name suggests, the hydrophobic Portland cement is manufactured solely with the special requirement of areas experiencing high rainfall. The requirement is solely facilitated to improve the shelf life.
Cement particles are offered a chemical coating at the time of manufacturing and offer a unique water-repelling property. This prevents the cement from being affected due to high humidity.
List of Top 10 Best Cement in India in 2022 with Price:
With India being the second largest cement producer in the world, after China, there are 10 best cement brands in India that have outspread their business in the country. A total of 185 large cement plants are present across the country that proves the wide market of the commodity.
From major organizations to houses, every sector of life looks for the best brands as a means to restore the future of the constructions. Let us view and garner an in-depth knowledge of the top 10 cement in India in 2022.
1. UltraTech Cement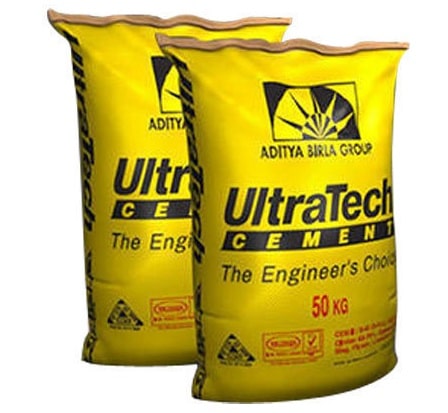 The largest manufacturer of grey cement, UltraTech cement is leading the bandwagon of the best cement companies in the country. A subsidiary of Grasim Industries, UltraTech Cement is owned and operated by the infamous Aditya Birla Group of Industries.
Headquartered primarily in Mumbai, Ultratech was founded and established in 1983. With a worldwide presence over five countries including Bahrain, UAE, Sri Lanka, India and Bangladesh, the Best cement in India comprises 20 integrated plants, 7 bulk terminals, 26 grinding units, 1 clinkerisation plant.
Popularly known as the largest clinker exporter of the country, the top cement brand in India offers high quality cements such as Portland blast furnace slag cement, normal Portland cement, and Portland Pozzolana cement.
It has earned a worldwide name of being a chief manufacturer of RMC and white cement in the country. Being an ISO 9001, ISO 14001 and OHSAS 18001 certified, the brand has an annual capacity of producing a whopping 60 million tonnes of cement.
2. Ambuja Cement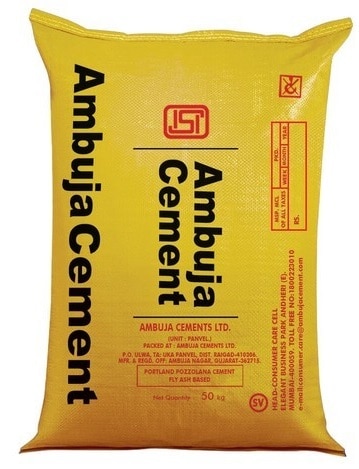 Popularly known for its eco-friendly initiative of manufacturing cement in a sustainable manner, Ambuja cement is founded by Suresh Kumar Neotia. Founded in the year 1983, the brand has achieved a startling 20 years of experience as of now under the leadership of N.S Sekhsaria, the Chairman of the company.
Formerly known as Gujarat Ambuja Cement Limited, the top cement company in India is now a major fragment of the global conglomerate LafargeHolcim. Incorporating eco-friendly and sustainable development practices, Ambuja Cement has welcomed feasible construction solutions in India.
With a cement capacity of a whopping 29.65 million tonnes, the brand brings along five manufacturing plants along with eight grinding units in the country. Headquartered in Mumbai, Ambuja Cement is spread across different states in India including Gujarat, Maharashtra, West Bengal, Rajasthan, Himachal Pradesh and Chhattisgarh.
An initiator of advanced products such as Roof special, cool walls and Ambuja Compocem, Ambuja have always endeavoured its journey towards reducing carbon footprints in a significant manner.
A proud generator of its power requirements from renewable sources, the sustainable brand undoubtedly makes its way to the top of the list of Best cement in India.
3. Shree Cement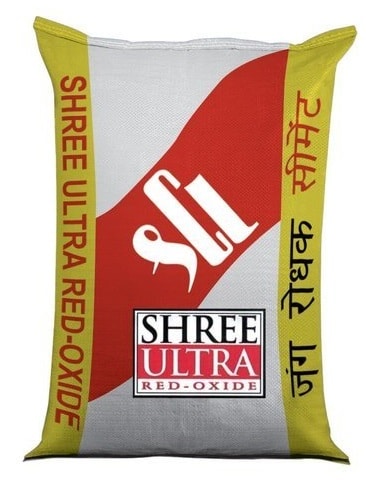 The third best cement brand in India, Shree Cement Limited was founded in the year 1979. Although it was founded in the quaint town of Ajmer in Rajasthan, however it has now shifted its headquarter to the east, in Kolkata.
Driven solely towards constructing an industry built around the needs of consumers, the third best cement in India for house construction is a proud owner of eminent brands such as Bangur Cements and Rockstrong Cements. Garnering a worldwide acknowledgement among the cement industry as one among the most environmentally friendly brands, Shree Cement is here to stay.
A strong back up of corporate management along with social efficiency, Shree Cement has been able to acquire commendable financial results since its inception. With the help of its own manufacturing unit, Shree Cement is spread across distinct states in India including Uttarakhand, Bihar, Chattisgarh, Rajasthan, Haryana and Uttar Pradesh.
Attracting a big chunk of the crowd vouching for affordable yet quality products, Shree Cement Limited has the blend of both, quality and affordability. Rendering a production capacity of 39.9 Million Tonnes Per Annum, this Best cement in India is ready to take their game to the next level.
4. ACC Cement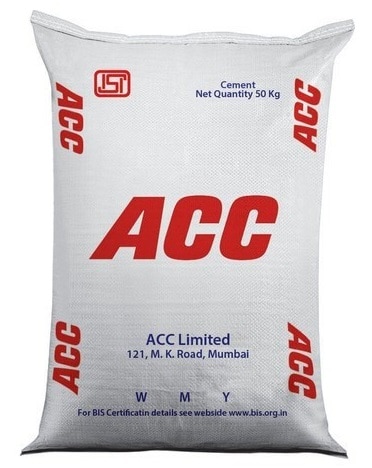 Founded in 1936, ACC Cement is one of the leading manufacturers in India offering high quality products that has made it earn a prominent position among the top five in the list. Established with its headquarter in Mumbai, it is the first ever cement producer to be the flag bearer of environment protection.
Spread over India with as many as 12 manufacturing units, ACC Cement makes use of advanced technology to produce premium quality products. With offering a total production capacity of 33.4 Million Tonnes Per Annum (MTA), this premium brand houses a total of 6700 employees.
Equipped with 17 cement plants, Best cement in India has more than 50 concrete plants spread across the country. With an R&B centre located in Mumbai, the fourth best cement brand works under the parent company, Lafarge Holcim Group that is noted for its strong presence across the world.
It is also the very first cement brand in the world that had launched Bulk Cement, and especially for consumers needing bulk quantity. Vouching for a unique track record of product development, innovative research, and consulting services, ACC is a valuable brand of the country, sliding its way to being one of the best cement company in India.
5. Ramco Cement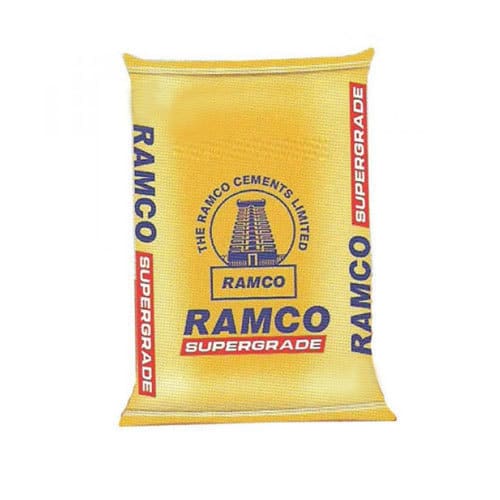 Formerly known by the name Madras Cement, Ramco Cement was established in 1975. Headquartered in Chennai, Tamil Nadu, the brand is one of the most popular cement brands in the country, and especially in southern India.
The fifth best cement producer in India, Ramco Cement primarily produces Portland cement. It is spread across eight manufacturing plants in India with a production capacity of whopping 16.45 Million Tons Per Annum.
The best cement brand for plastering in India largely produces premixed dry mortar necessary for construction along with a second segment which is solely dedicated to the production of wind power. A proud acclaimer in Bombay and National Stock Exchange, Ramco Cement has a strong understanding of corporate social responsibility.
Responsible for planting trees across distinct locations in the country, the 5th best brand in India comprises 4 grinding plants, 1 ready mix concrete plant, 1 dry mortar plant, 1 packing plant and 5 cement plants.
6. JK Cement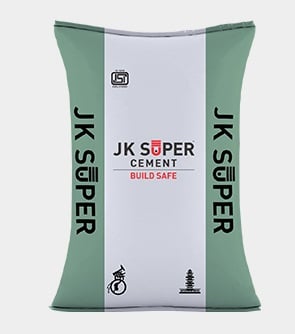 One of the biggest names in the cement industry, JK Cement Pvt Ltd had started out in the year 1975. Initiated with its first ever production unit in Rajasthan, the Best cement in India comprises several units throughout the country at the present.
Built with a strong network of about 4000 cement distributors spread across the country, in the states of Madhya Pradesh, Uttarakhand, Haryana, Jammu & Kashmir, JK Cement Pvt is one of the pioneers in India. Its cement factories are located in Durg, Chattisgarh, and another in Sirohi, Rajasthan along with two milling units in Kalol and Jhamri respectively.
It is a global conglomerate that operates across 43 countries in the world, and has a production capacity of 14 Million Tonnes Per Annum. With a strong keenness towards environmental sustainability, JK Cement Pvt Ltd is also the very first company in the world to set up a waste heat recovery power plant.
With a number of cement varieties, JK Cement brings along with it JK Super Cement, JK White Cement, JK Super Strong Cement, JK GypsoMaxx, JK WallMaxx and much more.
7. The India Cements
Established in 1946, The India Cements Ltd is currently headed by former ICC Chairman, N.Srinivasan. Founded by two eminent men, Sri T S Narayanaswami and Shri S N N Sankaralinga Iyer, the brand was built to translate dreams to reality.
The largest cement producer in South India, The India Cements Ltd offers a quick supply across rural and urban markets through feeder depots. It comprises around 12 integrated cement plants throughout the country and is headquartered in Tirunelveli, Tamil Nadu.
With a proud capacity of 15.5 MTA, the best cement in India 2020 has over 8 integrated cement plants along with 2 grinding units. With over 1120 employees in the brand, The India Cements Ltd has made its way to being the seventh best cement brand among the top 10 best quality cement in India.
The first plant of the brand was set up at Thalaiyuthu in Tamil Nadu and has grown outwardly in the past two decades. Emerging as one of the most popular companies in the southern part of India, The India Cements Ltd brings along 7 integrated plants in Telangana, Tamil Nadu, Andhra Pradesh, 1 in Rajasthan, and two units of grinding in Maharashtra and Tamil Nadu.
Focused largely on manifesting a strong relationship with customers, the brand heavily emphasizes on the quality of their product and services offered.
8. Binani Cement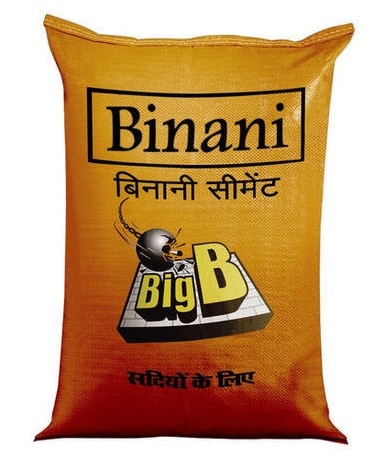 Binani Cement, a flagship of Binani Industries Limited is what the Birja Binani Group stands for. The group is largely known for its reputation garnered over their age old experience that has gone beyond India with settling up integrated plants in China and grinding units in Dubai.
The products are manufactured globally with the company holding a capacity of 11.25 MTPA. Certified for Merit of Energy Conservation in Cement from the Ministry of Power, Binani Cement is here to rule the market as an initiator of environmental friendly practices.
Founded in the year 1996, the best quality cement in India is run by Vinod Junega, the Managing Director who is personally known for leading a number of successful ventures under his valuable leadership. With being headquartered in Mumbai, Binani Cement has over more than 505 in-house employees.
With the help of one integrated plant in China, it produces PPC cement along with two grades of cement, grade 43 and grade 53. It is largely involved in the manufacturing and sales of clinker and cement while being certified as ISO9001, ISO14001 and OHSAS18001.
Along with India, the best cement for house construction in India has extended across a major market share internationally including South Africa, Sudan, UAE, Tanzania, Namibia, and Madagascar. The company enjoys a premium status among a number of brands and has gained a significant share in the market across western and northern India.
9. Birla Cement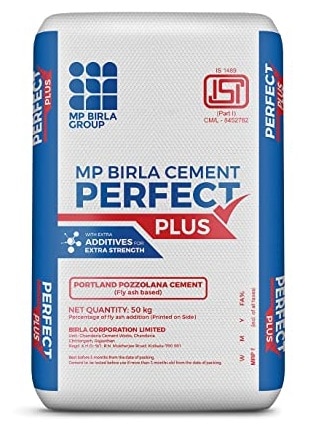 Birla Cement Corporation is an Indian based flagship conglomerate of MP Birla Group of company. The group has not just acquired a strong footing in cement, but also in steel, jute, healthcare and education sector.
Formed by Shri Ghanshyam Das Birla, the Birla Cement Corp is headquartered in Kolkata. Started out as early as in the year 1890s, the best cement brand in India is diversified into four distinct companies.
Being spread across 10 cement plants throughout the country, the company offers varied cement types including Ordinary Portland Cement, Fly ash based, Portland Slag cement and Low Alkali Portland cement and so on.
Acquiring a strong presence in the north, east and centre of the country, Birla Cement Corp is popularly marketed under the brand names known as Unique, Ultimate, Concrecem, Multicam, PSC, Chetak, Samrat and so on.
With acquiring 100% of shares of Reliance Cement Company Private Limited, Birla Cement Corp is an ISO 9001: 2000 certificate holder and covers an entire range of production and marketing. It offers seven plants and was shaped in the hands of Late Mr. Madhav Prasad Birla, the then Chairman of the organization.
10. JSW Cement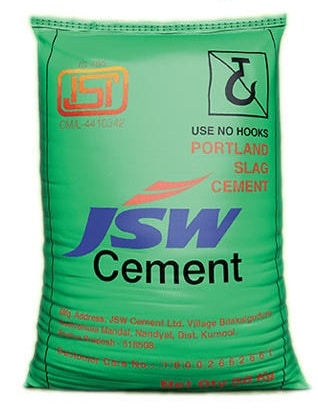 Headquartered in Mumbai, JSW Cement comprises 3 cement production plants based out of Karnataka, Maharashtra and Andhra Pradesh. With its inception in the year 2009, JSW Cement had entered the market with the aim to produce a sustainable and eco friendly solution.
Producing three primary varieties of cement, Ordinary Portland Cement, Portland Slag Cement and Ground Granulated Blast Furnace Slag, the cement brand makes use of slag and renders green cement.
With its flagship plant located in Nandyal, the best cement for construction in India makes use of world class technology and manufactures cement. By winning a number of prestigious awards for the energy saving processes, JSW Cement has its key markets across western and southern part of the country.
With a whopping production capacity of 12.8 MTA, the company is run under the leadership of Sajjan Jindal, the Managing Director of the company. Housing around in-house 902 employees, JSW Cement ranks among the best cement companies in India in 2020.
FAQ's
Which is the best quality cement in India?
The best quality cement is offered by J K Cement, which makes use of premium quality materials and cement types such as 43 grade quality.
Which is the No. 1 cement in india?
UltraTech cement is the No 1 cement in India which is also one among the largest and top cement manufacturers in India.
What is the strongest cement?
The strongest cement is ACC Cement that is ideal for constructing robust foundations and structures.
Which cement is best for construction?
Ambuja cement is one of the most voted cements, ideal for construction due to its strength and ability offered.
Which cement is best for roofs?
JK Cement Ltd is the best cement brand for roofs that promises long sustainability for the future
Which is best cement for slab?
The best cement for slab can be acquired from Binani cement that has garnered a potential amount of popularity all over the country.
Which cement is best ACC or UltraTech?
Ultra Tech has been voted as the best cement in India in 2021, and has left ACC behind in the league.
Which cement is best for waterproofing?
Ramco Cement offers fly ash based cement which is considered as the best cement for waterproofing.
Which type of cement is best?
Shree Cement offers ordinary Portland cement which is considered to be the best kind of cement in the world.
Which is the No 1 cement brand in India?
The No 1 cement brand in India in 2021 is Ultra Tech which is owned and operated by Aditya Birla Group of Industries.
A Wrap to the Best Cement in India in 2022:
This wraps up the list for the 10 best cement brands in India in 2022. Now that you have gained a vivid understanding of the best brands in the country, it is about time to settle for nothing but the best.
India being one of the most populated countries is always exposed to a number of constructions. It is only with the usage of the right material can a country build strong foundations and prosper towards its road of development.
There is a dire need for delivering the right resources to build robust structures, and it can only be achieved with the help of awareness.
Each of these brands has earned their spot among the top 10 due to the characteristics and strength possessed by them. The resourceful insight will help individuals to take the right decision and go forward with the best cement choices for construction.