The given article highlights the best power banks in UAE in 2021 that can be considered by people looking out for the best options to buy a power bank. A power bank is a mobile accessory that is used when one can not recharge the battery of one phone in a traditional manner. This portable device has multiple advantages and usage.
The power bank has gained a pristine position in the list of accessories for a mobile phone and here we provide you with a curated list of 8 best power bank in UAE in 2021.
This list coves each and every aspect of the portable device to help you choose the best for your purpose. Whether travelling or not, carrying a portable charger has become important since, in this digitalised world, we all want to capture every bit of our lives and also to keep ourselves updated with the world. Achieving these could be a problem as your mobile can be discharged with all the functions going on. In such situations, a portable power bank comes in handy and lets you achieve a socially connected life.
Below given is a list of power banks that will help you choose the best for yourself.
Here are the List of Best Power Banks in UAE in 2021 :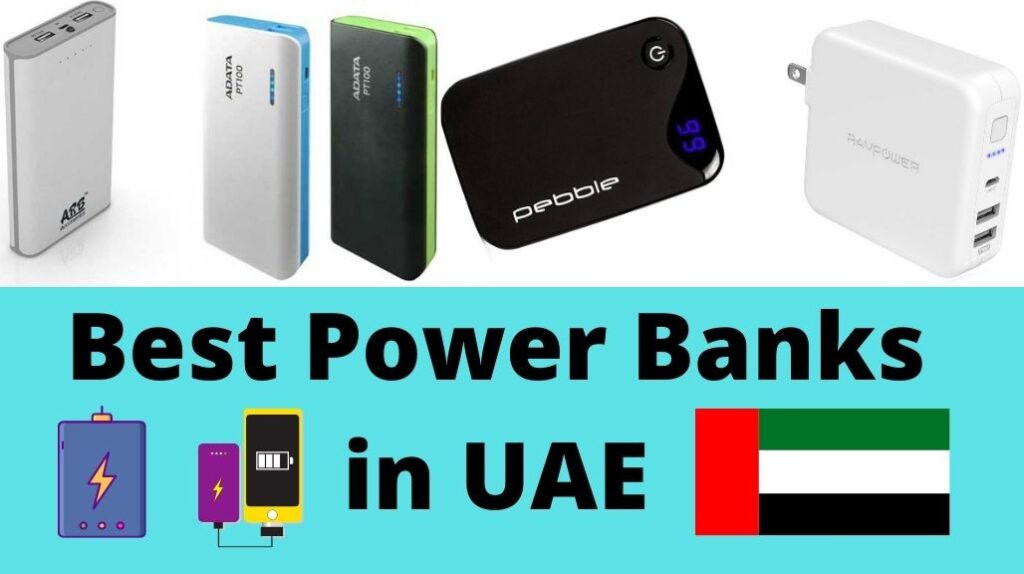 Every person has a different lifestyle and thus has different requirements and to serve this purpose the under given are the best power banks in UAE to choose from. Let us dive into to technical factors and pointers of each product.
1. Anker PowerCore Power Bank
This portable power bank of the Anker brand is the best 20000 mah power bank in UAE. It comes with 2 USB-A ports. The brand AnkerDirect AE is termed Anker and is known to provide the best quality for its customers for a long time. The power bank of this company stands strong in the market for providing 100% original certified products.
This power bank is a lightweight portable charger that can be easily carried from one place to another. As the power bank has USB ports, making it perfect for all mobile phones. This powerful power bank can easily provide power for days to your device. It has been recorded that for an iPhone 8, the power bank can charge it 7 times. While in the case of Galaxy S10 and iPhone XS, it can provide complete 5 charges. Moreover, it can be used to charge an iPad Air 2 for 1.5 times.
Anker PowerCore Power bank gives an 18 W PowerIQ which means that it can charge a single device fastly. This fast-charging power bank has a twin USB charging port that allows the user to charge two devices simultaneously. On the other hand, the device itself takes about 6.5 hours to recharge and serve you.
Furthermore, with this power bank, the user receives a USB-A to Micro-USB cable, a welcome guide, an 18-month warranty, and friendly customer service. This device also comes with voltage boost technology and is produced by one of America's Leading Charging Brand. This lightweight portable power bank is 354 g in weight and has a compact construction which makes it ideal for long travels and best for people who love travelling.
2. Xiaomi Mi Power Bank 3
Xiaomi Mi is the best power bank brand in UAE. This is a model named Xiaomi Mi Power Bank 3 and provides 10000mah battery capacity. This is one of the best power banks in UAE with lithium-ion battery cell composition. This is a sleek power bank that has USB-C two-way quick charge technology. This means that the device is suitable for charging your mobile phone in a hurry as it takes less time to charge your mobile phone or other devices.
Moreover, Xiaomi Mi released this power bank in the year 2019 that charges at 18W and has an attractive design which makes it perfect to carry and does not look out of the place while carrying. This portable adds as an accessory and is perfect on the technical front as well.
This portable charger has a compact size as it is 14.2mm thick, making it really comfortable to carry in hand. Also, it has up to 93% conversion rate which means that it discharges efficiently to charge your mobile phones and other devices.
Furthermore, this high-density lithium polymer battery power bank has a weight of 340 g. It has an input interface of a Micro USB and USB-C while the output interface is of USB-A and USB-C, making this portable device perfect for different types of devices including iPhone, Samsung devices and much more.
3. Samsung Power Bank
Samsung power bank is one of the best 10000 mah power bank in UAE. In the land of the Arabian desert, where one can get ample amount of distractions and can lead to our location for a greater amount of time. This 10000mah battery capacity power bank comes with a C-Type cable. Also, this portable device is compact in its design with 5.5-inch width. This property makes this device easy to carry in hands and also easy to work on a mobile phone while charging it on a go.
This Samsung Battery Pack has a Quick charge that let the user charge their device quickly on a go. It comes with Samsung AFC (15 W), making it a good one of the best power banks in UAE. Also, this power bank recharges at a faster rate to provide the user quick usability.
This power bank comes with OCP (Output Overcurrent Protection) functionality, which means that it monitors the output current and shuts off instantaneously when the current exceeds the maximum current limit your device can withstand. This technology makes your device safe from getting corrupted because of current overflow.
Furthermore, this power bank can recharge your device to its full capacity in 220 minutes when in fast charging mode. It has two output ports and one input port. You can keep a check on the charging of this power bank with the led lights present near the charging micro-USB wire spot. This efficient Samsung power bank is lightweight as it is 220 g which makes it a great option for people in UAE.
4. HUAWEI Portable Power Bank
Another best power bank in UAE is manufactured by the HUAWEI brand. This portable power bank has been manufactured with utmost care and administers safe internal wiring. Also, it provides a consistent current output. This portable power bank has a high battery capacity of 10000 mah which lets the user charge their device multiple times according to the requirement.
There is a well planned and executed device that has perfect internal circuitry that hinders abrupt jolts, thus making it one of the efficient power banks in the market. This device has two ports one for output and one for input, namely USB Type-C and Micro USB.
This Lithium-ion based power bank supports a trickle charging mode. This mode can be activated by double-pressing the power button, after turning on the trickle charging mode, the user is able to charge their Bluetooth devices like a smart wristband and wireless earphones.
Moreover, this unique power bank charger is 30% faster than other competitors as it charges on 18 W maximum. This device is also different from others as it promises to work on a 12- layer comprehensive safety protection which includes battery temperature protection and safeguarding your device. This power bank also has an overcharge and discharge protection layer that helps your charging device's battery not get overcharged.
Furthermore, this HUAWEI Portable Power Bank has been manufactured with technologies like dual short-circuit protection, static electricity protection, output overcurrent protection, input overcurrent protection, output overvoltage protection, and much more. This portable device has been tested for temperature, damp heat, salt fog and so on to provide the best quality to the users.
5. iMuto Power Bank
One of the top power banks for travel and other purposes is the iMuto power bank. It has a battery capacity of 20,000 mAh. This compact power bank is a great source of battery backup for a plethora of devices such as iPhone X, iPhone 8, iPhone 7, Samsung Galaxy S8, Samsung Galaxy S7, Tablets, iPads, and so on. This high capacity power bank has a compact size making it ideal to charge your devices while working. It can charge an iPhone X almost 5 times completely with its USB Type-C cable.
This power bank is manufactured with Digi power technology. It has a smart digital display that informs the remaining power in digital format making the user completely aware of the device's status. It is also equipped with iM-Power technology. It has 2 USB ports that detect the device efficiently and delivers fast charge.
This portable battery charger has a built-in flashlight that can be utilized in dark or low light environments. It has lithium-ion batteries of high quality that have multiple smart protection technologies which keep your device safe from problems like a short circuit, over-voltage, overcharging, and over current.
6. Charmast Portable Power Bank
Charmast is known for manufacturing the best power bank with a battery capacity of 10400 mAh. It is a remarkably compact power bank that weighs around 186 grams. This compact design allows the user to carry it in their pockets or purse easily. This super convenient portable charger is compatible with different devices. It has efficient output as it can charge an iPhone X 2.5 times completely.
This powerful mobile charger has dual QC outputs and a USB Type-C port. All the ports deliver fast charge, making this device smarter than the other. It automatically detects and delivers optimal charge current to the connected devices. Thus safeguarding your devices against overcharging, overheating, over-voltage, and over current.
This compact power bank comes with a USB C cable and a mesh pouch that can be used to carry this palm-sized mini power bank. It takes about 3.5 hours to recharge with a QC 3.0 power adapter, making your lightweight device available on a go.
7. Duracell Power Bank
Duracell manufactures the best power bank in UAE which is compatible with devices such as iPhone, Samsung, and much more. It is a power bank with a battery capacity of 10050 mAh and is perfect for smartphone and other USB powered devices. This fast charge power back up can provide up to 72 hours extra talk or serve time depending upon the device.
This sleek portable charger is lightweight and can be carried easily in daily life. It can charge an iPhone 7 up to 1.7 times making it a great choice to take it in your purse or pocket. It is a smart device that has a 4-level LED indication that depicts the amount of back up charge left in the power bank.
The device is manufactured with fast-charge technology that can help in speeding up the charging process. One of the unique features of this portable power bank is that you get a three-year guarantee and 10 safety features which makes your long journeys and business trips easier.
8. Oxsaytee Power Bank
Oxsaytee has the best power bank in UAE which has a battery capacity of 26800 mAh. It can charge most smartphones 6-7 times and has three output ports which include 2 USB and one type-C. It falls under a bit bulky charger as it weighs 640 grams but is perfect for outdoor usage because of features such as LED light that is extremely bright as it is made up of 18 LED beards. Also, the user can adjust its brightness in 4 modes.
This device is manufactured with IP 66 waterproof technology and also from premium abs material that makes it durable and shockproof even the input and output ports have a lid that helps in making them waterproof. It has a portable design and comes with a lanyard which makes it easy to hang on your backpack while doing activities like biking, hiking, and so on.
This portable power bank is different from others on the list as it has a solar panel that charges under sunlight and makes it suitable for emergency use. Furthermore, the company provides three months of free return and exchange which is a cherry on the top for the users with certificates like CE/FCC/RoHS.
Best Power bank in UAE in a nutshell
Power banks have become a necessary accessory not only while travelling but also in daily life. The above given is a curated list of the best power banks in UAE. The list will help the users to select the best option according to their requirement. Since it can be difficult to find charging points especially while travelling, a good power bank can come in handy in a tricky position. Hence, it is better to carry one that serves a purpose and helps you to stay connected with the work.